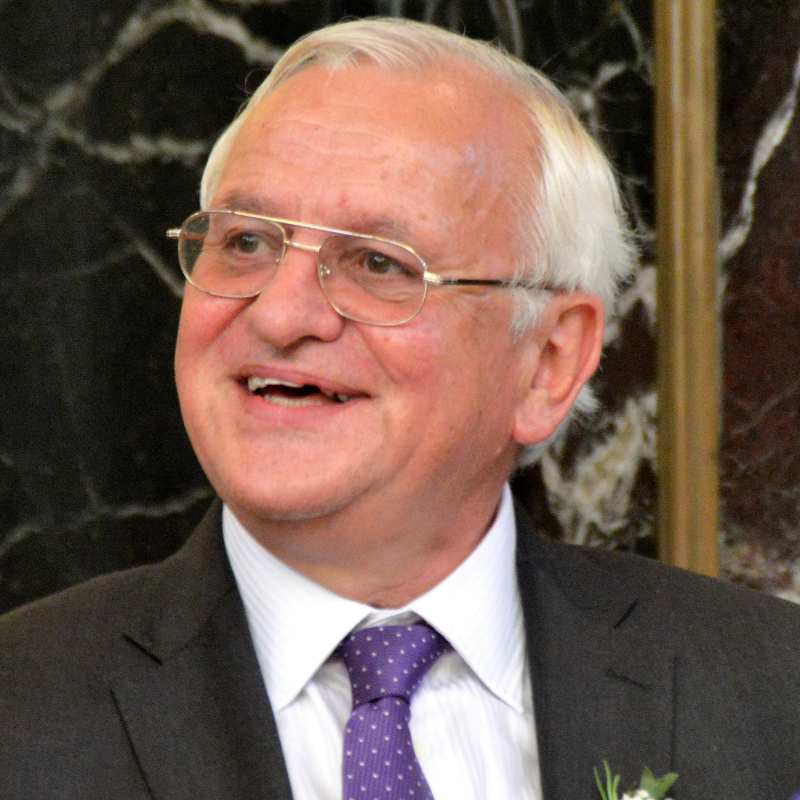 Charles was born 26th February 1957 in Orpington, Kent to Derek and Ruth Zealey. After graduating from Sidney Sussex College, Cambridge, he married Joyce in 1980. A year later they bought their first house in Thatcham where their three children grew up. After spending twenty years with ICL, Charles started his own business, IT Solve. Some will remember his monthly column, IT Matters, in the Newbury Weekly News Business Today.
He will be remembered for his sense of humour and his faith in Jesus Christ. He has been an integral part of the congregation at St Nicolas, Newbury serving as Church Warden for many years. The driving principle throughout his life was to present God's truth in the world through the Church.
Charles was a loyal Francophile, spending many summers camping and taking in the culture. His mother taught him to cook from an early age and inspired in him a love of Elizabeth David. Much of his free time was spent in the kitchen perfecting the techniques of French cuisine to the joy of his family and friends. He continued to learn French with the Kingsclere Twinning Association and as a trustee of the France Mission Trust.
Inspired by his father, he collected wines and restored classic Alvis cars. As a cricket enthusiast, he was a member of the Worcester Cricket Club and enjoyed days spent at Test Matches whilst listening to the radio commentary.
Charles and Joyce moved to Kingsclere in 2013 and have enjoyed countryside walks, gardening and welcoming friends to their home ever since.
He was a wonderful husband to Joyce, father to Mark, Paul and Ruth and brother to Caroline. He will be greatly missed.
The funeral will be held at St Nicolas' Church, Newbury at 12.30pm on Tuesday 28th November. Family flowers only; donations may be given to France Mission Trust via the Church Office.
[ view entry ]
( 296 views ) |
permalink
|





( 3 / 1333 )
---
here
. Since sensitive information is involved you will need a password. Contact us if you do not have it.
[ view entry ]
( 448 views ) |
permalink
|





( 2.9 / 665 )
---
here
[ view entry ]
( 470 views ) |
permalink
|





( 3 / 7594 )
---
F.F.Bruce's "The New Testament Documents: Are they Reliable?" is an old book but well worth reading - find it online
here
Frank Morrison was a lawyer who set out to examine the evidence for the resurrection and apply his lawyer's mind to it with the aim of proving that it could not have happened. He ended up being convinced that biblical account of the resurrection
was
true. His his story is
here
.
If you want to read the Bible online you can find it at
www.biblegateway.com
. There is also an app for iPhone and Android but you will need a data connection. You can also get Bible apps which download the text to your phone so you can read offline - one such is
Olive Tree
. Some older versions are available free (try the English Standard Version or the American Standard Version) or you can buy the New International Version and others.
Many, if not all, of the talks from the course are available to view on YouTube. If you have missed any talks you might like to catch up by watching them. Go to
www.youtube.com
and search for something like 'Alpha talk week 2'. The week numbering is not consistent so try some other week numbers if you can't find what you want.
For a website dealing with many of the questions and issues we will encounter at Alpha take a look at
bethinking.org
[ view entry ]
( 348 views ) |
permalink
|





( 3 / 5889 )
---
Duke House,
Newbury Road,
Kingsclere,
Hampshire
RG20 4SY
Telephone: 01635 898447
Do use your SatNav. It will get you to a point within a mile of the house. DO NOT rely on the SatNav alone. Read these instructions as well.
From M4 Junction 13 or from Newbury follow signs for Basingstoke on the A339. Go through Headley, passing Cheam School on your right. After about a mile you will see a lay-by on your left, followed by by the Orchard Business Park on your right. Take the track to the right immediately after the Business Park signposted to the Cottismore Garden Centre. Take care on the track as it is poorly surfaced and you will find Duke House on the right after about 400 yards. See Below for parking details.
From M3 junction 6 or Basingstoke follow signs for Newbury on the A339. You will skirt Kingsclere on the by-pass. At the roundabout continue to follow signs for Newbury. Pass the Star Inn on your left and after about 400 yards look for a sign to the Cottismore Garden Centre and take the turning to the track on your left. Take care on the track as it is poorly surfaced. You will find Duke House on the right after about 400 yards.
Parking: To avoid annoying our neighbours please park on our drive if at all possible. We can sort out double parking easily. If the drive is full, park opposite our drive either by the field or blocking the garage. Leave room for traffic to enter the garden centre through the barrier even if it is closed. If all else fails park by our wall or in the lane so as not to obstruct passing places or other traffic.
[ view entry ]
( 244 views ) |
permalink
|





( 3 / 7567 )
---
<Back
| 1 | 2 | 3 |
Next>
Last>>